Friends of Wimbledon College

Please join us at our next meeting
Our next meeting will be held on Tuesday 16th May at 7.30pm. Meetings are held in the college meeting room upstairs from reception.
For further information contact FoWC by email: FriendsofWimbledonCollege@gmail.com
Who Are We?
The Friends of Wimbledon College (FoWC) is an active group of parents and friends who support Wimbledon College and its good work. All parents of students of Wimbledon College are automatically members of the FoWC. As friends we warmly invite and encourage you all to come and participate at our meetings and to join us in organising events that support the college community.
Our aim is twofold. Firstly we assist the school by performing duties such as providing refreshments at College events that include Drama Productions, Music Events, Prize Nights, the Christmas Carol Service, etc.
Secondly, we organise social events for the enjoyment of parents. These help to promote the ethos of the college and provide opportunities for parents to meet and get to know each other as part of the college community. If these events also raise some money, this is a bonus. Some events are organised to raise funds for specific college projects.
Upcoming FoWC events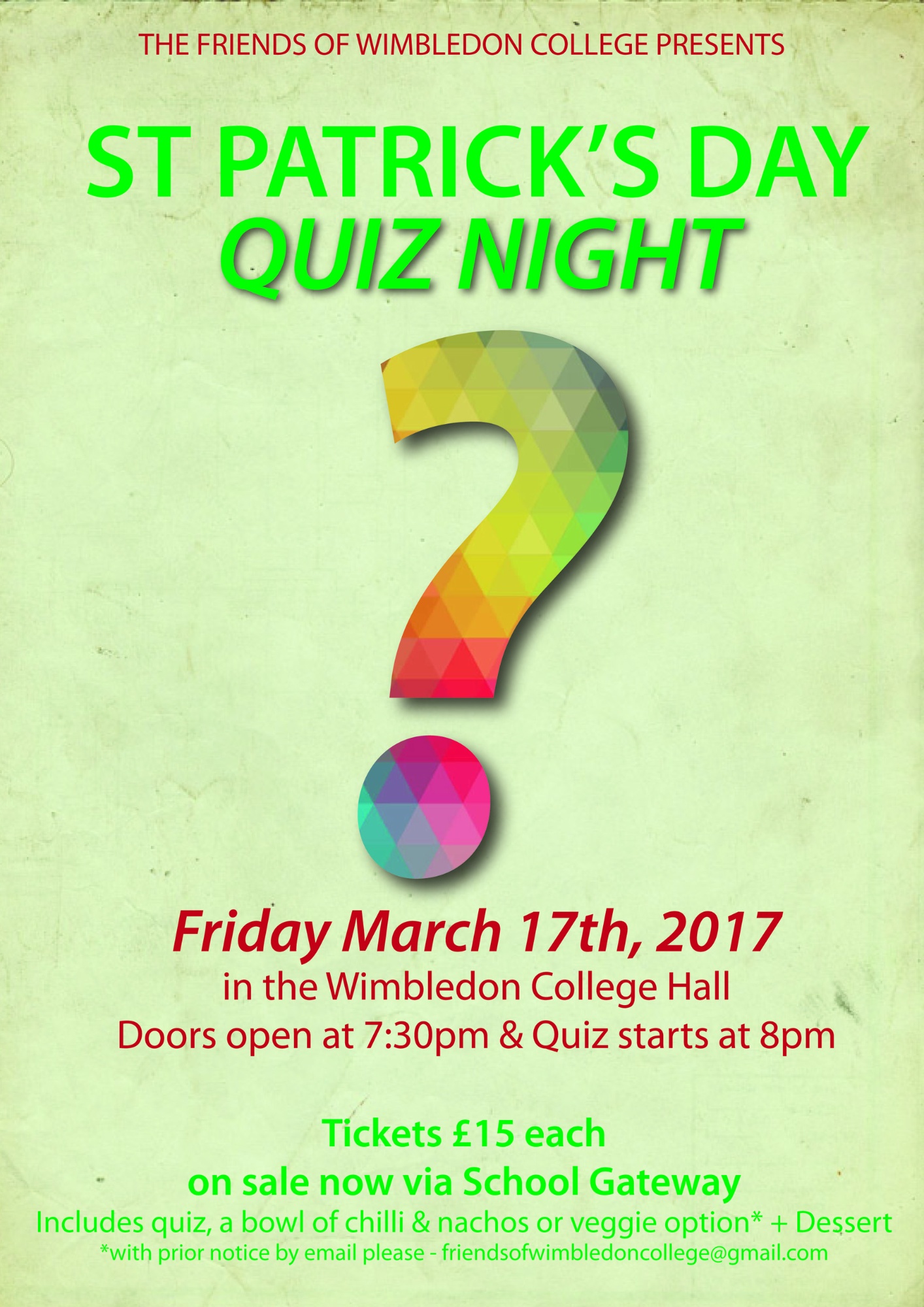 St Patrick's Day Quiz night on Friday 17th March in the College Hall. Tickets are £15 and available now from school gateway and include the quiz, a bowl of chilli & nachos (or veggie option available on request), and dessert (see attached flyer for more details). There will also be a raffle with some great prizes. Please do try and come to this evening- it is really good fun whether you know any of the answers or not! It is an opportunity to meet other parents and support your school. Do book your tickets as soon as you can to avoid disappointment, our last event was sold out a week before the event!
Thanks for visiting FoWC. See you again soon for further information on upcoming events and to follow our progress on the FoWC Fundraising Thermometer.