"Tired, drained, remorseful, changed."
This is how one of our students summed up their experience of our homeless sleep out. On a cold Friday night in October thirty nine of our Sixth Formers spent an evening reflecting on homelessness before getting a small taste for themselves by spending the night sleeping rough in our playground. (You can see a gallery of photographs from the evening here.)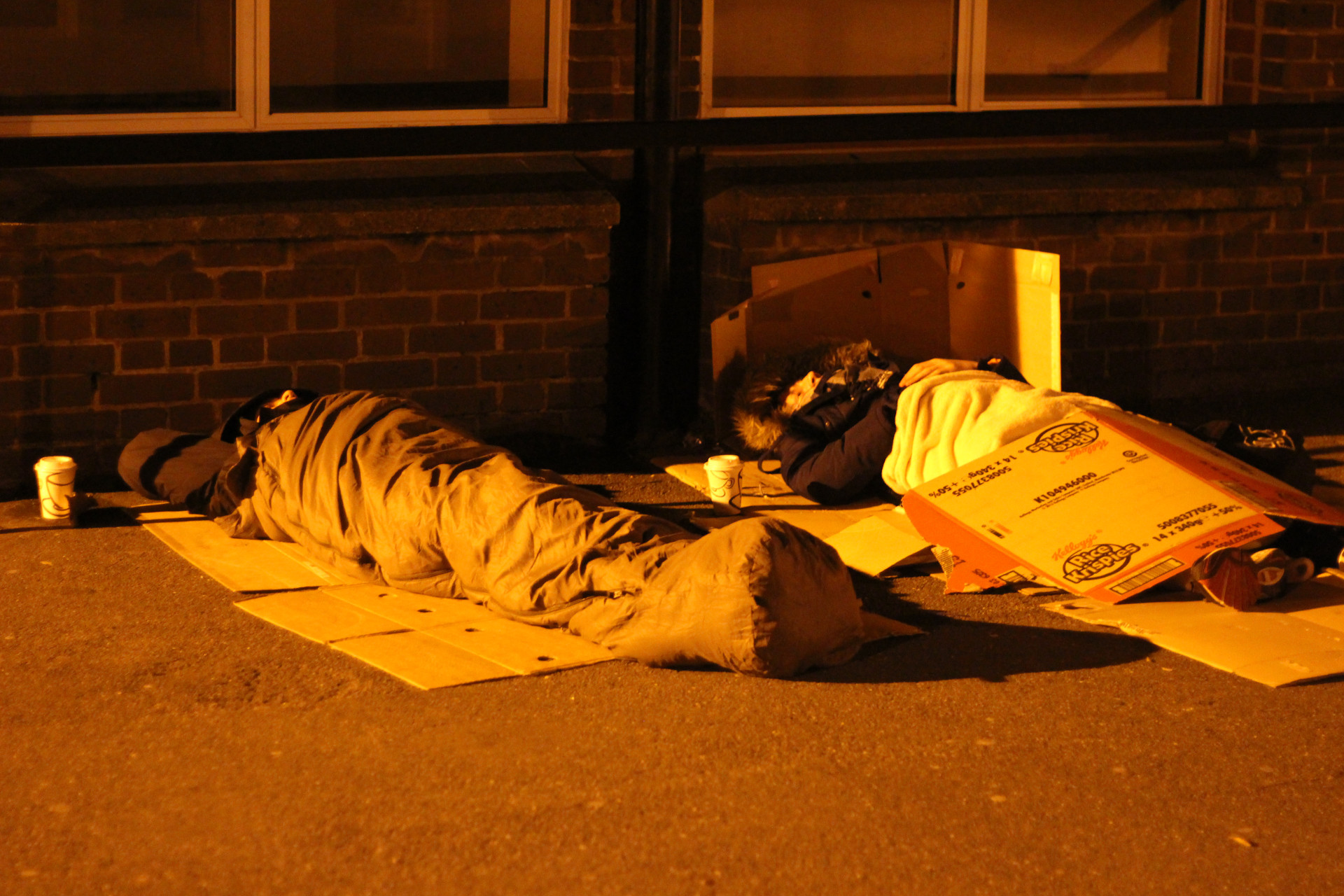 As well as sleeping out we invite "Merton Faith in Action Homelessness Project" to talk about their work supporting local homeless people and some of the issues they face. One of the most moving parts of the evening was listening to Richard, who told us of his experience of homelessness and how MFIA have been helping him. The next morning the boys wrote down some of their reflections on the experience, here are just a few which give you a flavour of what it meant to them:
"I feel more motivated to help those less fortunate and to show care for them and their problems."
"I realised how tough it must be for homeless people sleeping out every night we only had a taste of their experience and I can imagine that in reality it is a lot harder."
"I feel grateful for the food that I have, however the world we live in sometimes is selfish and makes you think people can be more merciful."
"I am more grateful for a warm bed, food being available 24/7 and family and friends who I can always speak to if I feel sad or lonely."
We try and help the boys connect this experience with their faith, through pieces of scripture and times for prayer and quiet reflection. As a Jesuit school we encourage the students to "Find God in all things" and in the morning we asked the boys to reflect on where they had found God in this experience. Here are a few of their comments:
"I found God out in the playground when everything was silent and all I had was the stars it felt very spiritual and like the most genuine connection to God I have ever had."
"In Mass mainly but also in the silence."
"In my heart."
"In the parable saying, when you did this to the least of my brothers you did it to me!"
"In the way the charities help the homeless people."
"In the happiness knowing that we are making an impact."
"In the man who came in and talked about his situation and what he had gone through."
"The realisation that God helps us to reflect and God can guide us to change our life and gives us the drive to love and help others."
"In looking up at the stars whilst shivering in my sleeping bag, it really striped back the layers of life."
"In all things!"
Our faith includes a call to put that faith into action, to allow our hearts to be moved by compassion for others and then to follow this through with practical action. This is what we mean by the call to be merciful (our theme for this year). Here are a final few words from our students about how they felt this experience would change the way they acted in future.
"I will look at homeless people more as persons who have dignity."
"Next time I look at someone who is homeless, I would hope I will try and strike up a conversation with him, possibly give them some food, water etc."
"Perspective thus gained, I will live in greater gratitude with greater compassion."
"It will make me a lot more aware of what these people go through day to day. It made me feel sad for them and gave me a sense of wanting to help."
"It has also shown me the importance in helping others anywhere in life."
"I will be more appreciative of my friends and family, and the privileges I take for granted."

If you would like to support either of the charities we are raising money for through our sleepout you can do so online:

https://www.justgiving.com/CollegeSleepOut2015MFIA/

or https://www.justgiving.com/CollegeSleepOut2015CH/
Our students are
Prophetic
Learned
Faith-filled
Generous
Grateful
Hopeful
Curious
Attentive
Prophetic
Learned
Faith-filled
Generous
Grateful
Hopeful
Curious
Attentive