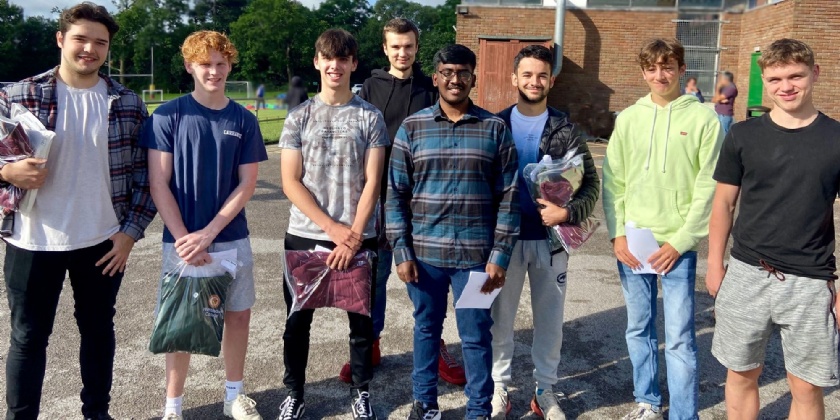 We congratulate all of our students on completing their time with us at the College and on the results that they have achieved in the face of unprecedented disruption during their courses. Their results rightly reflect both their hard work and the support that they have received from parents and staff.
We are pleased to report excellent results with 46 % of results at A*/A, 72% at A*/B and 87% at A*/C
It is pleasing that the vast majority of our students who had planned to go to university in September will be taking up their first-choice courses. As always, they are heading off to universities around the country to begin courses in a wide variety of subjects, including Accounting, Acting, Aerospace Engineering, Architecture, Biochemistry, Biomedical Science, Chemistry, Computer Science, Economics, Electronic Engineering, Environmental Geoscience, Geography, History, Law, Mathematics, Mechanical Engineering, Music, Pharmacy, Physics, Psychology and Sport Science/Technology.
Special mention must be made of Jago and Raphael who both achieved 4 A*s, Matheus who achieved 3A*s and an A and Vinishan and Thisok who both achieved 2A*s and 2 As at A Level. Rio achieved 3 Distinction* Vocational qualifications and Cameron, Ciaran, Ernest, Freddie and Hugh all achieved 3 A*s at A Level.
We also congratulate Lorenzo who, after completing his A Levels last year, takes up an Organ Scholarship, studying Music, at Homerton College, Cambridge in September.
We wish all of our leavers the very best in their future careers
Our students are
Prophetic
Learned
Faith-filled
Generous
Grateful
Hopeful
Curious
Attentive
Prophetic
Learned
Faith-filled
Generous
Grateful
Hopeful
Curious
Attentive