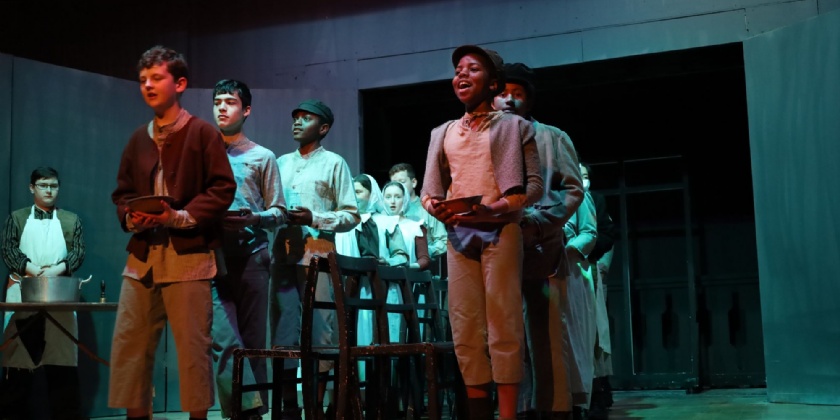 There was plenty of thunderous applause and cheering from a packed auditorium as "Oliver!" came to its end.
This has been the third production of the famous musical; the first was in 1972 when Simon Potter and College pupils joined up for the first time with the Ursuline High School, and the second was in 2011, marking the end of the headship of keen theatre advocate Fr Adrian Porter SJ – also co-directed by Simon Potter. The 2022 "Oliver!" was a Covid-aware and simpler production, this time marking Simon Potter's 50th year at the College and his 67th production. The inexperienced cast rose magnificently to their task after four months of hard rehearsal, accompanied by a delightful band of musicians led by Music Maestro Ifor Thomas OW and Julian Reynolds.
Fagin, Dodger, Bill Sykes, Nancy and two boys sharing the part of Oliver, were all outstanding. They were supported by a cast largely composed of Year 7 and Year 8 pupils who did all their own scene-shifting. Light and sound engineering was in the hands of two Poetry and a Syntax pupil, and was handled most professionally. OW ex-'man in Black' Mr Elton Araunjo came in to offer advice. Costuming was overseen by Ms Aileen Pe Benito and Mr Cormac van der Hoeven. Ms Paola Cray ran box office.
A selection of emails received about the show:
Many thanks for the wonderful show last night. It was a real delight.
I really enjoyed last night's performance – it kept me smiling throughout. Such a lovely evening.
We really enjoyed "Oliver!" and it's so lovely seeing the talent up there again after such an awful hiatus.
What great fun! We really enjoyed the play.
A truly delightful show. Please pass on our congratulations to all.
Thank you for a very entertaining evening. You've all done an amazing job.
It was so good to see children working as a team together in our favourite art form.
We so enjoyed Dodger, Oliver, Fagin and your outstanding Nancy; and Bill Sykes was very scary.
What a great band. Please congratulate the musicians
Our students are
Prophetic
Learned
Faith-filled
Generous
Grateful
Hopeful
Curious
Attentive
Prophetic
Learned
Faith-filled
Generous
Grateful
Hopeful
Curious
Attentive