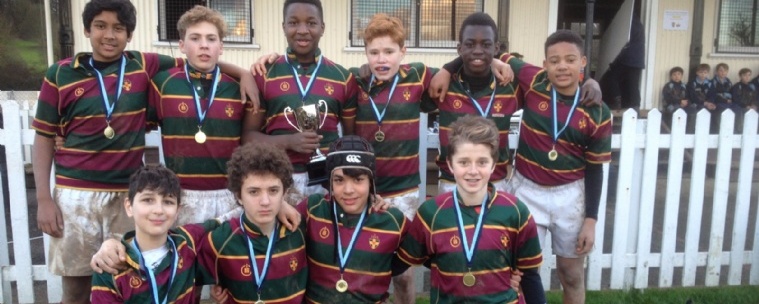 The U13's have now come away with the spoils in both of the prestigious tournaments they have entered so far this season.
After winning the St. John's Beaumont Sevens before half term, they were also successful at the Warwick sevens on Saturday February 27th. A dominant performance saw them overcome all opposition, including RGS High Wycombe, Warwick, and Kings, Macclesfield, who they beat both in their group, and again in the final (35 - 0).
Whilst all the squad were exceptional, the stand out performance came from Cassius Cleaves, whose acceleration, agility and strength, proved too much for all opponents.
They next compete in the Surrey Sevens on Tuesday 8th March, before rounding off the season at the Rosslyn Park National Sevens on Monday 14th March.
The squad for the two tournaments:
Nathan Jibulu (capt)
Cassius Cleaves
Luca Buttaci
Jayden Equibor
John Curri
Cameron Millar
Cameron Lewis
Archie Brosch
Neo Sibal
Caleb Acquah
Chris Serra
Sonny Nicol
Khari Mendez-Stephenson
Our students are
Prophetic
Learned
Faith-filled
Generous
Grateful
Hopeful
Curious
Attentive
Prophetic
Learned
Faith-filled
Generous
Grateful
Hopeful
Curious
Attentive