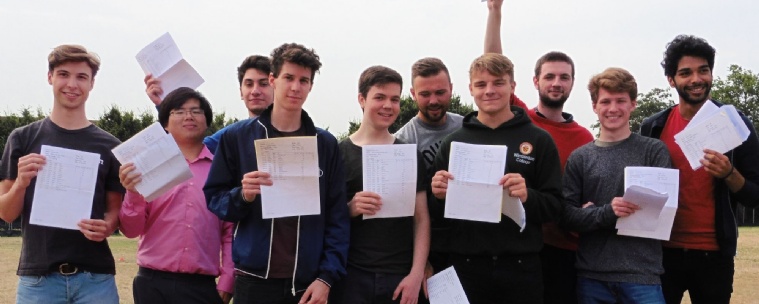 We are very pleased with the achievements of our Rhetoric pupils in their examinations this year. As a result the majority of the year group are taking up offers of university places around the country.
Outstanding individual results include Christian Repole and Etienne Cousin who have gained places at Cambridge and Oxford Universities respectively. Christian achieved 4 A* and an A* in his EPQ. He is going on to study Engineering at Jesus College. Etienne who achieved 2 A* & 2 A grades will be studying Biological Sciences at Pembroke College.
Other outstanding results include Dominic Harte [2A*,2A], Isaac Chung [A*, 3A], Dilush Selvarajah [2A*,A,B] Conor Richardson [A*,2A,B], Linus Kurz [A*,A, 2B] and David Cecil [A*, 2A].
Overall the boys achieved a 99.6% pass rate, with more than 70% of all examination results graded A*-C and 20% graded A*/A. A growing number of boys undertake the Extended Project Qualification and they have achieved impressive results in this.
The boys are going on to study a wide variety of degree courses including, Architecture, Bio-medical sciences, Computer Science, Engineering, English, History, Law, Mathematics, Medicine, Music, Pharmacy, Physics, Psychology, Politics, Sport and Zoology.
Head Master, Adrian Laing said "Congratulations to all of the boys on their well deserved results. They have been committed to their studies and with the support of their families and teachers have worked hard to ensure such good progress. The vast majority of the boys are now in a position to take up places at their chosen universities and these include many of the top universities in the country. I wish them all the very best in their future careers".
Our students are
Prophetic
Learned
Faith-filled
Generous
Grateful
Hopeful
Curious
Attentive
Prophetic
Learned
Faith-filled
Generous
Grateful
Hopeful
Curious
Attentive