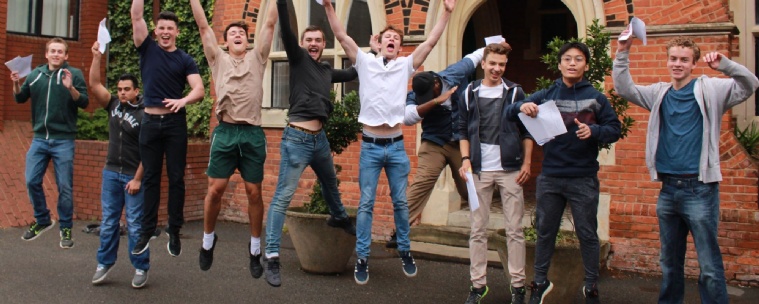 Congratulations to our Rhetoric pupils on their examination results.
We are very pleased with the achievements of our Rhetoric pupils in their examinations this year. As a result the majority of the year group are taking up offers of university places around the country.
Outstanding individual results include twins Josh and Zach Lambert gaining four A Levels a piece. Zach achieved an outstanding 4 A* and an A* in his EPQ and has gained a place at Pembroke College, Cambridge to study Engineering, while Josh will be studying Physics at Bristol.
Other outstanding results include Jared Solano [3A*, A], Patrick McCluskey [3A* and an EPQ A grade], Fabio Vasconcelos [A*, 2A and an A* EPQ] and Tareeq Jalloh [A*, A, B]. Simon Fetwi, Liam O'Grady and Jacob Smith all achieved three As and Shiraz Sittar achieved three distinctions in his Level 3 BTECs.
Overall the boys achieved a 99.3% pass rate, with 75% of all examination results graded A*-C and over 20% graded A*/A.
The boys are going on to study a wide variety of degree courses including, Aerospace Engineering, Anthropology, Architecture, Biomedical Sciences, Chemistry, Computer Science, English, Geography, Horology, Law, Mathematics, Psychology, Politics and Sports Broadcasting.
Head Master, Adrian Laing said "Congratulations to the boys on their well-deserved results. Committed to their studies and support from their families and teachers have ensured such good progress. I wish them all the very best in their future careers".
Our students are
Prophetic
Learned
Faith-filled
Generous
Grateful
Hopeful
Curious
Attentive
Prophetic
Learned
Faith-filled
Generous
Grateful
Hopeful
Curious
Attentive