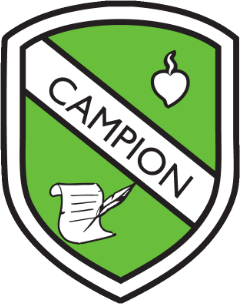 House Saint: Edmund Campion - Click here to read about Edmund Campion
Head of House: Miss Walker
Since the revival of the house system I have been proud to be Head of Campion House. Our namesake has bequeathed us the virtues of courage and determination. Pupils in Campion have the courage to value the joy of participation over victory, and the determination to persevere regardless of any challenges we may face.
The extensive range of activities offered by both the house system and individual teachers / departments allows all pupils to play to their strengths and contribute to the success of their house. Campion pupils grasp these opportunities and always deliver their best. Be it sporting events, music performances, artistic competitions or performance in lessons, I am confident that this will be another successful year for Campion House.
House Captain – Sonny Faulkner
The title of house captain is a prestigious one, and having been part of the house since year 7 I am honoured to take up the mantle from our previous captain, Basil Cooper. The story of St. Campion is an inspiring one, and there is a lesson to be learned in his persistent focus on his cause that can be applied to our daily lives, both inside and outside school.
Since my earliest years in the school, Campion house has had a significant presence in Wimbledon College. I have been fortunate enough to have been part of Campions vast success over the course of my 6 years at Wimbledon College, and I'm sure we will try our best to excel this year so we can take top spot in the House Championship. Every point counts, and very often you can ger them for simply participating, Whether you are more academic or physically centered, there are plenty of opportunities to contribute to our House, such as football or debate.
I look forward to the year ahead of us and would like to reiterate the honour and gratitude of being the Campion House Captain. I will welcome and questions you may have as a member of the Campion team, so please feel free to ask me anything if you see me around school.
Our students are
Prophetic
Learned
Faith-filled
Generous
Grateful
Hopeful
Curious
Attentive
Prophetic
Learned
Faith-filled
Generous
Grateful
Hopeful
Curious
Attentive