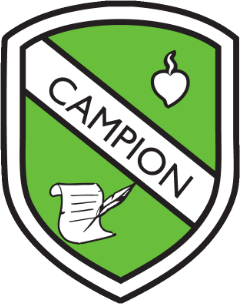 House Saint: Edmund Campion - Click here to read about Edmund Campion
Head of House: Miss Walker
House Captain: Basil Cooper
The title of house captain for Campion is a prestigious one, and having been part of the house since year seven I am honoured to take up the mantle from our previous captain, Anthony Newman. The story of St. Campion is an inspiring one, and there is a lesson to be learned in his persistent focus on his cause that can be applied to our daily lives, both inside and outside school.
Since my earliest years in the school, Campion house has had a significant presence in Wimbledon College; not only being the first alphabetically, we almost always achieve first place in the house competition in at least one year, and often triumph in sport events.
This year, however, will be different. By partaking in as many house related events throughout the year, we can take that top spot in the competition. Every point counts, and very often you can get them just for showing up! Whether you are more academically or physically centred, there are plenty of opportunities to contribute to our house, like football or house debates.
By sharing in the resilience shown by Edmund Campion, we can really succeed this year, and, most importantly, if you have and queries or questions, or just want to say hello, I am more than happy to have a chat!
Our students are
Prophetic
Learned
Faith-filled
Generous
Grateful
Hopeful
Curious
Attentive
Prophetic
Learned
Faith-filled
Generous
Grateful
Hopeful
Curious
Attentive