Our curriculum upholds the key principles of Jesuit education.
"Education is preparation for life, which is itself a preparation for eternal life, and is concerned with the ways in which students will make use of their formation in the service for others 'for the praise, reverence and service of God'. Jesuit education tries to instil a joy in learning and a desire to learn that will remain beyond the days in school."
(Characteristics of Jesuit Education)
We do this by ensuring that our curriculum has the following aims:
A criterion of excellence in all aspects
A commitment to cura personalis (care for the individual) by ensuring our curriculum is centred on the individual rather than just the material to be covered, allowing them develop and to accomplish objectives at a pace suited to individual
Aspirational pathways for all our pupils which will give them the qualifications and skills for their next steps in education
Help pupils to realise that their talents are for the good of the human community, to form 'men and women for others'.
A broad curriculum which gives pupils a breadth of experience and knowledge with a balance between the classroom and extra-curricular opportunities.
To develop individual responsibility and a love of learning in pupils
To develop the imaginative, the affective and the creative dimensions of each pupil
To give opportunities to develop leadership and teamwork
To help pupils in their formation of values and attitudes
To keep ensure all pupils are safe and understand how to stay safe
Our curriculum fulfils these aims through the following:
Curriculum design
A broad 3 year KS3 curriculum which gives pupils the breadth of curriculum experience
KS3 Arts Rotation which ensures that pupils have increased opportunity to develop and hone their skills in the Arts.
A strong commitment to the EBacc
Aspirational target setting for all pupils
Pathways that are matched to student need, interest and aspiration
Teaching
Ensuring that teaching is pitched at the appropriate level for pupils
Teaching that builds on previous skills and content taught and revisits them at key points
Purposeful assessment and feedback which identifies strengths and next steps to be taken
An emphasis on developing high standards of literacy and numeracy
Teaching that develops independent, reflective learners and enquiring minds
Outside the Classroom
Developing pupils' cultural capital through exchanges, school trips and visiting speakers which deepen pupils' understanding of their subjects and the wider world
A diverse PSHEC offer which embeds British Values
An extensive range of extra-curricular activities and clubs
Careers education at every keystage
Individual pupil guidance for the next stage in their education at GCSE, A Level and University.
Through these we look to develop the following characteristics in all pupils - these characteristics form the Jesuit Pupil Profile.
Grateful for their own gifts, for the gift of other people, and for the blessings of each day; and generous with their gifts, becoming men and women for others.
Attentive to their experience and to their vocation; and discerning about the choices they make and the effects of those choices.
Compassionate towards others, near and far, especially the less fortunate; and loving by their just actions and forgiving words.
Faith-filled in their beliefs and hopeful for the future.
Eloquent and truthful in what they say of themselves, the relations between people, and the world.
Learned, finding God in all things; and wise in the ways they use their learning for the common good.
Curious about everything; and active in their engagement with the world, changing what they can for the better.
Intentional in the way they live and use the resources of the earth, guided by conscience; and prophetic in the example they set to others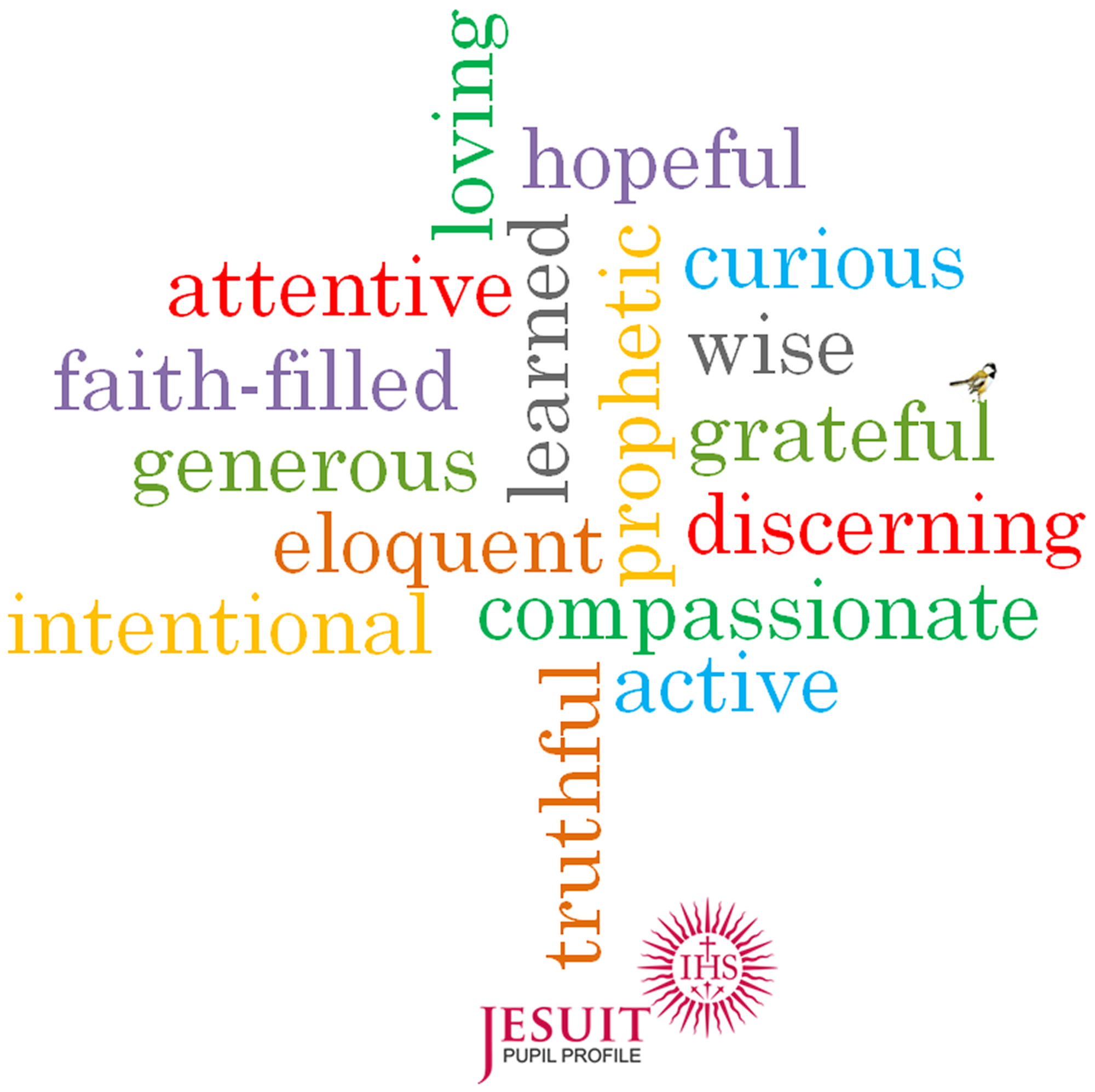 Our students are
Prophetic
Learned
Faith-filled
Generous
Grateful
Hopeful
Curious
Attentive
Prophetic
Learned
Faith-filled
Generous
Grateful
Hopeful
Curious
Attentive