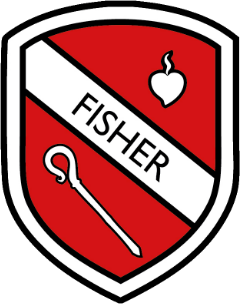 House Saint - St John Fisher - Click here to read more about the life of St John Fisher.
Head of House – Miss McCarthy
Since joining Wimbledon College, I have been a form tutor within Fisher and am very proud to now be Head of Fisher for a second year. We ended last year on a real high and finished in second place overall, with many forms achieving the highest house points in their year group. It is a pleasure to see that house points are being achieved in a variety of ways by the Fisher boys. Not only are they being awarded in the classroom for effort in class, excellent homework and positive behaviour but they are being rewarded beyond the classroom for helping others, being men for others, representing the school, and taking part and winning house events.
What's really important is the taking part in house competitions, not only will participation house points help us remain in place or achieve first place this year but it helps provide a well-rounded and enjoyable time as a student in Wimbledon College. I'm very proud of every Fisher boy for all their achievements and hope they continue to take such a positive enthusiasm towards their school life and Fisher house.
House Captain: Alistair Quintal
Since I joined Wimbledon College in 2015, I have always engaged in activities regarding Fisher House. In the past, I have participated in many of the House competitions available including House Basketball (in which I led the team second place) and Sports Day as well as engaging in many house debates and quizzes. Also, in the past years I've been in the school, Fisher House has always been able to maintain a high position in the House rankings thanks to the efforts of each and every House member. Their continued willingness to participate in as many events as possible has allowed us to maintain such a position (as every time you participate regardless of the result, you will be rewarded participation points that all add up to a summary at the end of the year). I implore every member to continue this effort for many years, regardless of your belief in your capabilities in a certain event. You should always aim to push yourself as you may learn a skill that will benefit you in not just your House/academic life but life in general.
Being given the responsibility to represent this house is a huge honour and will allow me to leave a mark in this school one way or another. Any questions you may have as a Fisher pupil don't be afraid to ask if you see me around the school.
Our students are
Prophetic
Learned
Faith-filled
Generous
Grateful
Hopeful
Curious
Attentive
Prophetic
Learned
Faith-filled
Generous
Grateful
Hopeful
Curious
Attentive