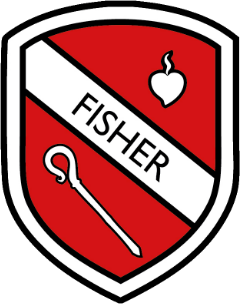 House Saint - St John Fisher - Click here to read more about the life of St John Fisher.
Head of House – Miss McCarthy
Since joining Wimbledon College, I have been a form tutor within Fisher and am very proud to now be Head of Fisher for a second year. We ended last year on a real high and finished in second place overall, with many forms achieving the highest house points in their year group. It is a pleasure to see that house points are being achieved in a variety of ways by the Fisher boys. Not only are they being awarded in the classroom for effort in class, excellent homework and positive behaviour but they are being rewarded beyond the classroom for helping others, being men for others, representing the school, and taking part and winning house events.
What's really important is the taking part in house competitions, not only will participation house points help us remain in place or achieve first place this year but it helps provide a well-rounded and enjoyable time as a student in Wimbledon College. I'm very proud of every Fisher boy for all their achievements and hope they continue to take such a positive enthusiasm towards their school life and Fisher house.
House Captain: Dominik Bogdanowicz
Since I joined the College in 2013, I have always played a role in Fisher House whether it be as a Form representative or participating in house events, such as debates and quizzes, and I encourage pupils to take part in all the opportunities that the College offers. I have also been a member of the College Choir and Stage crew which I have thoroughly enjoyed and gained many skills from, but these are only two of the many societies that you can be a part of in the College.
In year 7, my form gained the most house points in the whole school and therefore we were rewarded with a fun trip to central London where we visited some landmarks and had a masterclass in pizza making. That year and the following 2 years, Fisher house finished top of the leader board and I hope that that outcome can be repeated once again.
Being appointed as Fisher House Captain is a huge honour and it will allow me to leave my mark in one way or another, and for the little time I have left here, I can contribute to the College and help other fellow pupils (especially Fisher) to make the most of their time at Wimbledon College.
Our students are
Prophetic
Learned
Faith-filled
Generous
Grateful
Hopeful
Curious
Attentive
Prophetic
Learned
Faith-filled
Generous
Grateful
Hopeful
Curious
Attentive