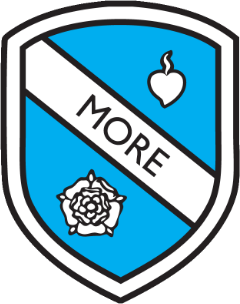 House Saint: St Thomas More - click here to read more about St Thomas More
Head of House: Mr Adams
It is my honour to oversee Loyola House.
Though this (2021-22) will be my first year at the helm, I have had the great pleasure in seeing so many talented Loyola students in my time so far at Wimbledon College. Already, their positivity is infectious. It's clear to see that our students are keen to get stuck into house competitions, having been largely deprived of them last year due to the pandemic.
The house system is such a wonderful part of school life at the college; it gives all our students opportunities to excel, and its versatility gives our men of Loyola so many chances to showcase their skills in whatever events in which they choose to participate. I wholeheartedly encourage all the students in Loyola to take part in as many activities as possible.
With so many students in Loyola who embody the Jesuit pupil profile virtues of being learned, grateful, active, and intentional, I've no doubt that we will not only make the best of the coming academic year, but also see the top of the house competition leader board!
Good luck and thank you to students and tutors alike for the coming year!
Best,
Mr Woodhall
House Captain: Ben Fenocchi
Having been a part of Loyola for over six years, I have been able to experience first-hand on many occasions the sense of togetherness and community that is inherent to our house. I believe that these are fostered throughout the various sporting and academic activities the college has to offer us. As such I strongly encourage everyone to partake in as many events as possible, from house quiz to dodgeball, swimming to rugby, there's something for everyone. Not only will this help push Loyola to the top of the leaderboard in terms of house points, but more importantly will help you make the most of your time at Wimbledon College.
Effort and excellence are always recognised at the College, either by smaller rewards like lunch passes allowing you to skip the queue, or subject prizes for high achievers, your house points will always come in useful, so do take part in as many activities as possible, as it will also serve to make your time here more memorable.
Finally, I would like to say please feel free to ask me any questions if you see me around school, and that as your new House Captain, I hope we can come together to achieve great things this year and beyond.
Our students are
Prophetic
Learned
Faith-filled
Generous
Grateful
Hopeful
Curious
Attentive
Prophetic
Learned
Faith-filled
Generous
Grateful
Hopeful
Curious
Attentive