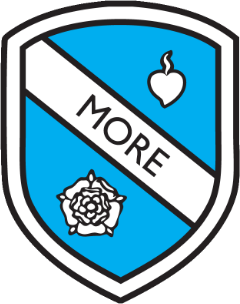 House Saint: St Thomas More - click here to read more about St Thomas More
Head of House: Mr Adams
Having been in charge of Loyola House since its formation, I have been lucky to work with a number of incredibly talented students who have showcased their skills in all kinds of activities. Although my first love is sport, I have always been amazed by the talent and dedication on show at events like the House Music Competition, which we have traditionally performed well in as a House.
Unfortunately, last year resulted in a disappointing 8th place overall, but this should not take anything away from some of the fine individual and team efforts that were demonstrated. I urge all boys in the House to participate in as many activities as possible as a way of showing gratitude for the opportunities that they are given. If this gratitude for the gifts and abilities they have is demonstrated in their behaviour on a day to day basis, they will have no problem becoming a member of the 500 points club by the end of the year.
I wish all students of the House the very best for this academic year, and thank the tutors for their continued support and encouragement with our efforts to climb up the leader board!
Mr Adams ​
House Captain: Joshua Ng Tsueng
I have been in Loyola since year 7 and have had many fond memories throughout the years, such as sports day, house dodgeball and house quiz. I am a competitive swimmer and used to swim for the school, I also participate in school council, help in school charity organisation for this reason, I am very proud to be your new house captain.
Being in Loyola has shown me that every member of Loyola is unique and talented: from loud musicians, with likes of Daniel Johnson, passionate actors, competitive sportsman and curious intellects. We don't need a win to succeed, if everyone shows themselves, and their abilities off and participate with enjoyment, that's considered success.
With that in mind let's try our best this year and get stuck in everything and anything. Let's go and succeed!
Our students are
Prophetic
Learned
Faith-filled
Generous
Grateful
Hopeful
Curious
Attentive
Prophetic
Learned
Faith-filled
Generous
Grateful
Hopeful
Curious
Attentive