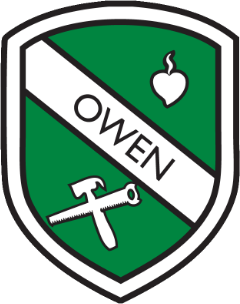 House Saint: Nicholas Owen SJ - click here to read more about St Nicholas Owen
Head of House: Mr Veerapen
I have thoroughly enjoyed my role as the Head of Owen House. It has given me an opportunity to see the boys get involved in a plethora of house activities ranging from the Pi recital competition to House Football.
Since its formation I have seen the House System grow from strength to strength and I am extremely proud to say that I, along with the other heads of house, have played a part in its revival.
The healthy competition between the houses has helped raise standards of behavior, academic achievement and sporting success. The boys enjoy gaining house points and the end of year trip for those pupils with the most house points has been an annual highlight for many.
I look forward to another successful year of house activities.
House Captain: Lorenzo Bennett
It is a great honour to be the House Captain for Owen this year. I will strive more than ever to encourage every Owen student to participate fully in every House activity this school has to offer. Whether it be in the House Quiz or the House Music Competition, or anything in between, every individual has a talent that should be put to good use.
In this way, on a markedly smaller scale, Owen students would be following in the example of St Nicholas Owen SJ, who selflessly used his carpentry skills acquired from his father, to help hide those wishing to practise Catholicism in the tumultuous late 16th and early 17th century after the Reformation. Using various aliases, and under the pretence of being a mere travelling carpenter, he built many hiding places for priests in various country estates owned by rich Catholic families. The Society of Jesus recognised his service, especially to the Jesuit priest Fr Henry Garnet, so admitted him as a lay brother. Eventually, after being bailed out of a previous arrest and torture by a rich Catholic family, he was arrested in 1606, after giving himself up voluntarily to avoid the authorities finding the hiding Fr Henry Garnet and another priest at Hindlip Hall in Worcestershire. Owen was subsequently brutally tortured at the Tower of London, and died around the 1st March 1606, having revealed nothing to his inquisitors.
Truly a great martyr of the Catholic faith in England, he should be a guiding example to all Owen students, inspiring all of us to use our skills for the good of our House as he used his skills for the good of his faith.
Our students are
Prophetic
Learned
Faith-filled
Generous
Grateful
Hopeful
Curious
Attentive
Prophetic
Learned
Faith-filled
Generous
Grateful
Hopeful
Curious
Attentive