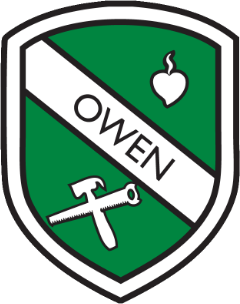 House Saint: Nicholas Owen SJ - click here to read more about St Nicholas Owen
Head of House: Mr Veerapen
I have thoroughly enjoyed my role as the Head of Owen House. It has given me an opportunity to see the boys get involved in a plethora of house activities ranging from the Pi recital competition to House Football.
Since its formation I have seen the House System grow from strength to strength and I am extremely proud to say that I, along with the other heads of house, have played a part in its revival.
The healthy competition between the houses has helped raise standards of behavior, academic achievement and sporting success. The boys enjoy gaining house points and the end of year trip for those pupils with the most house points has been an annual highlight for many.
I look forward to another successful year of house activities.
House Captain: Enoch Washington
Since joining Wimbledon College in year 7, the school has given me such a wide range of activities to take part in. There were all sorts of clubs I could be involved in from Music to Drama and even Army cadets. For me, house competitions were my favourite, especially house House football and rugby. These competitions helped me with forming a stronger relationship with my peers and had a feeling of a community. Wimbledon College is not just a school. It is a big community where we are men for others; help each other to grow as men for the future. At first I was hesitant to play rugby because of the sheer contact, colliding with one another but through the help of the teachers and peers around me I grew to love playing the sport. I'm currently playing for the Under 18b. I hope this shows you that you should take opportunities that may come your way and even if you are not sure, GO FOR IT.
Over the last few years Owen has been climbing the leaderboard and always progressing which is a great sight to behold. However I believe there is a great amount of work to be done to become the top house in the school. This is why I encourage everyone to participate in as many house competitions as you can. You'll win participation points and possibly even win the whole thing. Regardless of your skill set, encourage one another as this will be a benefit for you and the house team.
Being the oldest sibling of 3, I developed leadership skills and the ability to communicate to different types of people. My brothers are in years 12, 10 and 8 so I've been able to inspire and guide them and their friends.
I am very grateful and honoured for such a role of being a House Captain for Owen. I hope I can improve the house even further. If you have any enquiries, please do not hesitate to approach me.
Our students are
Prophetic
Learned
Faith-filled
Generous
Grateful
Hopeful
Curious
Attentive
Prophetic
Learned
Faith-filled
Generous
Grateful
Hopeful
Curious
Attentive